Understanding Automotive Relays
Article By: enginebasics.com
First you should know that a relay is just a device that when given a certain voltage will apply that voltage to other parts. Think of it like a train yard….a single train will come into the yard, and then be broken up and send the cars many different directions. A relay does the same. It takes the incoming voltage and once grounded will send that voltage to other places. So lets just focus on what an automotive relays is. You will usually see 3, 4, and 5 prong relays.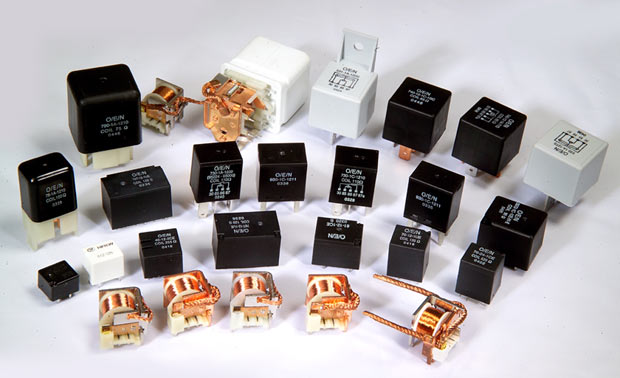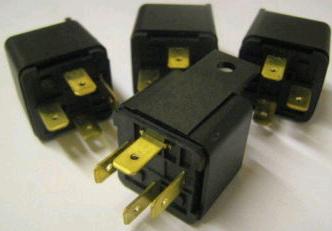 An automotive relay will be working with either a 12v or 5v signal. 12v, the standard of all automotives batteries, and 5v the standard for automotive sensors. For this article, lets just assume we are talking about standard 12v relays. Every relay should have a diagram showing what the relay does. Here are some examples: The squiggly line represents what we call: the coil. This is the part of the relay that switches or moves when it receives its desired voltage…..12v. Once it receives its 12v, it will then throw the "switch" to make continuity (attach) the other inputs and outputs. So lets use the diagram below( click for larger image):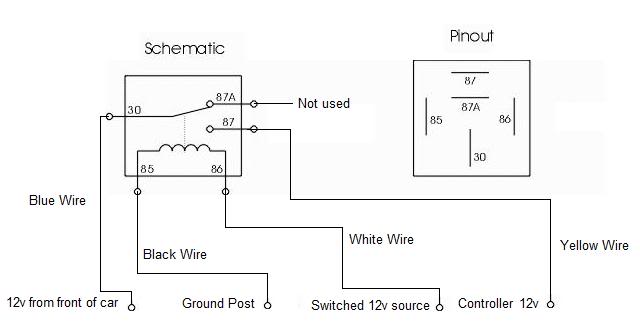 Pin 85 and 86 are the coil. So we will hook one up to 12v, and one to ground. This way when the relay receives either voltage or is grounded the relay will jump into action. So when it does "jump into action" what will it do? Well in this case it will take whatever voltage is on input 30 and switch it from outputting on pin 87A to pin 87.
Some of our favorite relays that we use:
So how could we use this?
Well maybe the above relay is for your headlights. When you turn your headlights on you send voltage to pin 30 which when the relay is not active sends it right out to pin 87a, which happens to be your low-beams. Also lets set up the scenario by telling you that Pin 85 and 86, which are the coil, pin 86 is grounded but pin 85 currently has no voltage. Now you go to turn on your High-beam headlights. Once you do this, pin 85 receives 12volts and the coil energizes, flipping the relay from outputting pin 30 from 87A over to 87. Well it turns out 87 is hooked to your High-Beam lights. So what happens….your low beams turn off on pin 87A and your high beams turn on because of pin 87. While this is just an intro to looking at automotive relays, I hope this give you enough understanding to test them and read more about not just automotive relays, but relays in general.
***Remember*** to check for other relevant information in the columns and article tables.
ATTENTION READER:
If you enjoyed the information and article you just read be sure to check out our newly released book with even more exciting photo's and information:
How to Turbocharge and Tune your Engine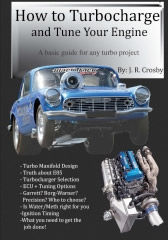 Follow Enginebasics on...


Want to know more about your particular Make and Model vehicle? All of these vehicles are covered in the tech, maintenance and repair articles found above. Enginebasics is the wiki or wikipedia of car part, repair, how to and tuning information. Let us be the class 101 for your automotive learning.
| | | | | | |
| --- | --- | --- | --- | --- | --- |
| Ford | General Motors GM | Pontiac | Jaguar | Land Rover | Nissan |
| Toyota | Honda | Lexus | Acura | Lotus | Scion |
| Infinity | BMW | Mercedes | Mitsubishi | Ferrari | Maserati |
| Lamborghini | Volks Wagen VW | Saab | Audi | Hyundai | Kia |
| Subaru | Mazda | Chevy | Volvo | Caddilac | Dodge |
| Chrylser | Daewoo | Porsche | Mercury | Freightliner | MG |
Individual Models
| | | | | | |
| --- | --- | --- | --- | --- | --- |
| Ford Mustang | Mitsubishi Eclipse | Mitsubishi Evo | Subaru WRX / STI | Dodge Viper | Chevrolet Corvette |
| Nissan Skyline | Honda S2000 | Nissan 350z | Toyota Supra | Chevy Camaro | Lotus Elise Exige |
| Honda Civic | VW Golf | Dodge SRT-4 | Eagle Talon | Acura Integra | BMW M3 |
| Nissan 240sx | Porsche 911 | Acura NSX | Honda Accord | Toyota Camry | Toyota MR2 |
| VW R32 | Dodge Truck | Mazda Rx7 | VW Jetta | Sand Buggy | Nissan Sentra |
Try The Car Enthusists Test (Link) and see how much of a motorhead you REALLY are.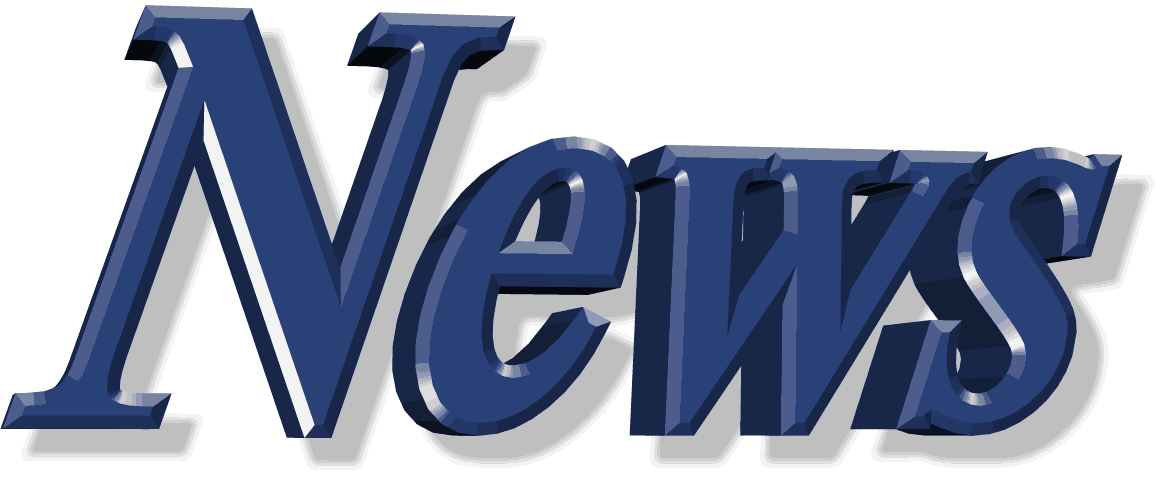 For the latest Automotive news and stories visit the websites below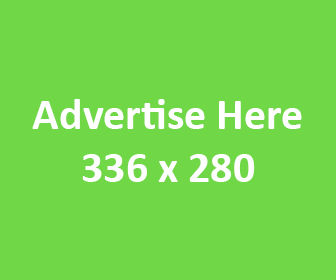 Our feature Build: An AWD V6 Civic