AEM's new Wideband Failsafe Gauge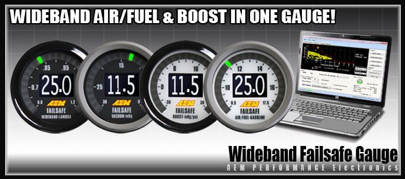 A closer look to find out if this is just another boost and A/F gauge or do we really have something special here?
Contributed By: Enginebasics.com
AEM just released a revolutionary new gauge called the Wideband Failsafe Gauge. At first glance, most of us might write it off as "just another wideband gauge on the market". That would be a huge mistake! Give us 2 minutes of your time to take a closer look at what this new gauge is all about and what it can do for enthusiasts like us.
The AEM Wideband Failsafe Gauge is really AEM's proven Wideband O2 sensor and gauge-type controller upgraded to be programmable, and more importantly include logic. This gauge can THINK. The engineers at AEM have been so kind as to add a function that allows the user to set high and low air/fuel ratio parameters that the gauge can react to. As a bonus, it can display the boost and air/fuel ratio at the same time on one gauge. Now, instead of buying a boost gauge and an A/F gauge, you only have to buy one, freeing up some of that dashboard and gauge pod space. AEM's Failsafe Gauge also comes with data logging with up to 3 hours of recording time (the data analysis software is a free download from the company's site). While these features all add to this gauge's value, it's really worth WAY more with its unique failsafe feature. Let us explain. (click for larger image)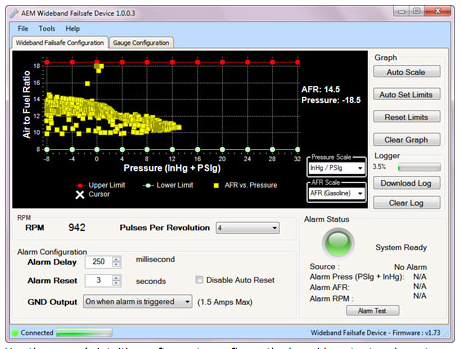 In the photo above you have a basic graph, like something from a High School Science class. On the Y-axis is the air/fuel ratio, and on the X-axis is the manifold pressure. The yellow dots on the graph are our plotted data points that the gauge is recording. The light green/blue line and the red line indicate what we have programmed into the gauge as outliers that should cause us to be alarmed.
EXAMPLE: Let's say you are in an Evo IX and you're at low RPM, out of the boost. You've got your trusty AEM Failsafe gauge reading the air/fuel ratio. Since you are taking it easy and just cruising around you will be staying in vacuum and not making any boost. If your car is tuned well (of course with an AEM EMS) then your AEM gauge should be collecting data and seeing it right around 14.0-15.0 air/fuel on the gauge, which you can see on the X-axis of the graph. Notice that this number is between the red line on top and our blue/green line on bottom. This is a good thing, since those lines are how you set your air/fuel warnings for too rich and too lean. It means that all of the data points we are collecting are within reason.
Now we see how this gauge can come in handy. Say you go over a high point on the ground and you drive a lowered car that tends to scrape over small pebbles. This time around though, you end up scraping a bit more than usual and you end up with a small hole in the fuel line. The loss of fuel pressure causes the car to lean out to 16.5 A/F. The motor is still running somewhat fine, so you don't notice it. Here is the beauty of the AEM Failsafe Gauge. An air/fuel ratio of 16.5 is out of your upper data point marked with the RED line. Because of that, the gauge reacts by grounding an output wire that will stay grounded until we get back between our upper and lower safety lines. If you wired that blue ground wire to the hazard light button on your dash, your caution lights would begin flashing letting you know that something is wrong. Brilliant right!?!?
Some of you may be asking, "Who cares about when the car is in vacuum? What about when I am boosting my car since that is where I need protection?" OK. Take a look back at the graph where you'll see a programmable pressure side on the X-axis.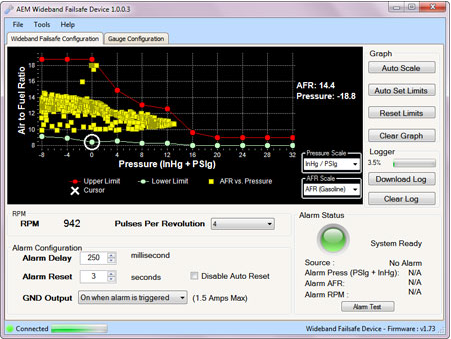 To be safe, you want your car to have between a 10.8-12.5 A/F ratio when under positive intake manifold pressures (boost). Those of you still reading this should say to yourself, "no problem I can do this." You would move the X axis to where you get to 1-2 pounds of boost and from that point, moving over to the right, you will set your upper and lower parameter lines. You would grab the upper red line and move it to 12.5, and grab the lower blue/green line and move it to 10.8 air/fuel. Easy huh? The results of the Failsafe are the same whether in boost or vacuum. If you run too lean or too rich, the ground output will trigger whatever you set it up to trigger.
Still not convinced of this gauges capabilities? Imagine this scenario: You quickly jump on the gas pedal and get into the boost. What you didn't know was as you jumped right into the boost, the vacuum line going to your fuel pressure regulator popped off, causing your fuel pressure to suddenly fall. This causes your motor to lean out, which is being starved of fuel with dangerous amounts of cylinder pressure existing. Lucky for you, you have an AEM Failsafe Gauge. As the car leans out it goes outside of the programmed parameter lines that discussed setting up in the above paragraphs, and the gauge grounds an output wire and starts flashing at you. One way you can set the gauge's warning is by having that grounded blue wire connected to an AEM ECU or other programmable ECU that accepts ground inputs to trigger a rev limiter or switch fuel/ignition maps. In the example above though, you quickly jump off the gas knowing something is wrong when your car won't rev over 2,000 RPM.
Talk about some peace of mind right? No matter how careful we are or THINK we are, no one is staring at his or her A/F gauge all the time.
Products like this could have just saved a $10,000 dollar motor build. With the amount of money people put into their motors, the money for a gauge like this will save you hundreds of dollars in the future, which really means it could save hundreds of marriages. Yes….you married car guys out there know what I mean. And the gauge is not a crazy amount of money either. Look at some of the pricing:
So, what else can be done with that ground wire? For you beginners out there who know that wiring and electronics isn't really your thing, the easiest thing to do is wire up that output ground wire to a buzzer/alarm. Any door buzzer or alarm will have a 12v+ side and a ground – side to set it off. All you need to do is run a 12v-fused source that has 12 volts when the car starts. A good place to find this source will be in the fuse box located in the cabin of the vehicle. Then run the ground wire from the AEM Failsafe Gauge to the negative groundside of your buzzer. Now anytime the gauge sees something wrong, it will ground the alarm/buzzer, and the alarm/buzzer will sound.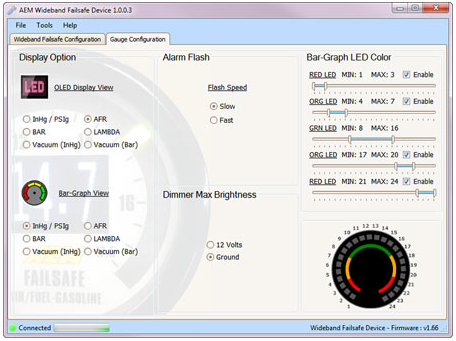 Here is the ground wire I am talking about. It's blue as you can see.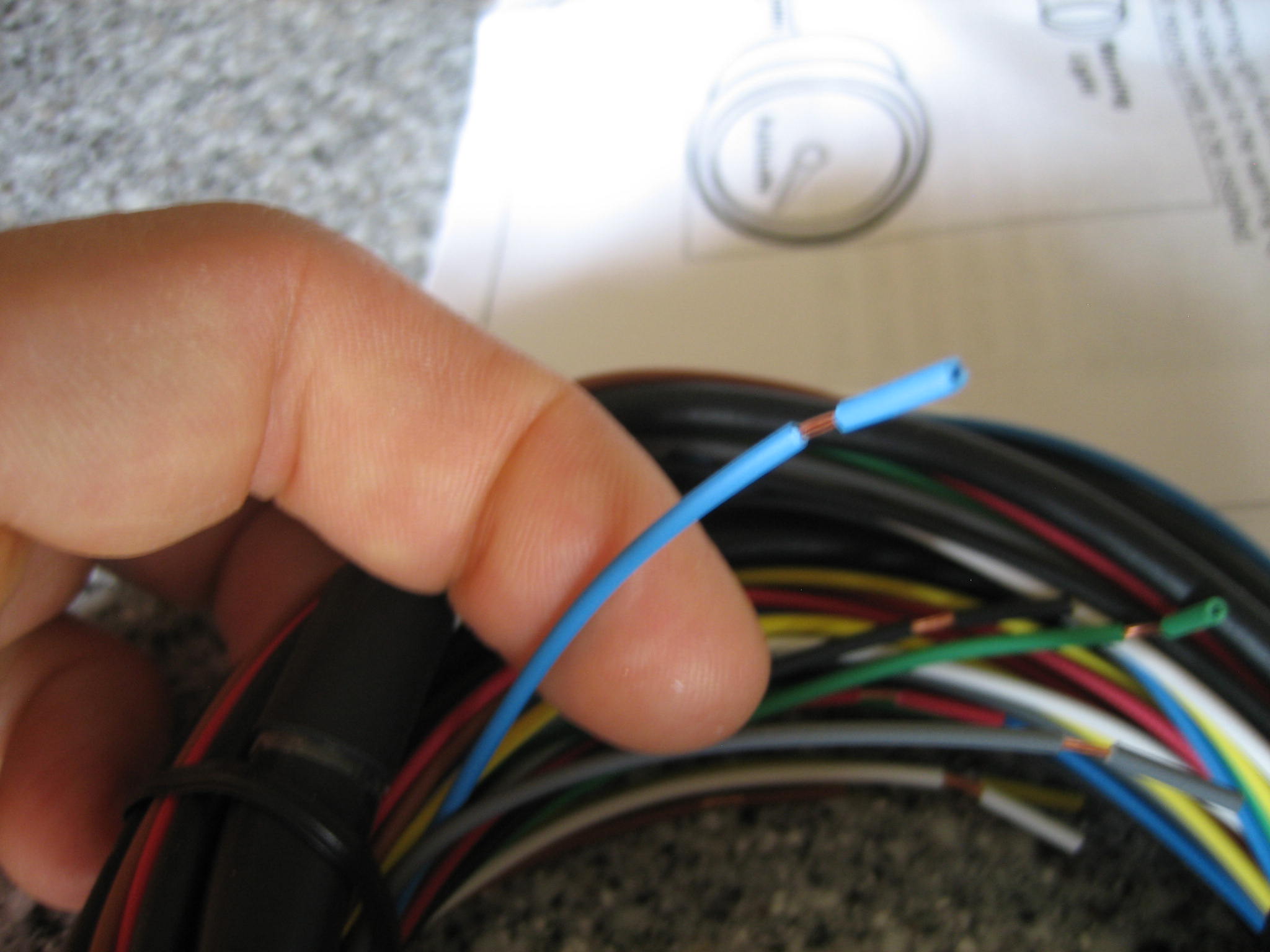 Advanced Protection Strategies.
So for our advanced users out there we created the section below just for you. Here is a list of things that you can trigger with the output ground wire. If you would ever like step-by-step instructions on how to do any of these, please just write us an email here at enginebasics.com by clicking the contact us button, and we will make it happen. In the coming weeks we will be getting a lot of how-to's out for some of the examples below.
What can be triggered:
1. A rev limiter
2. Nitrous map/alternative map to add fueling and pull timing
3. Trigger the electronic boost controller to turn the boost down
4. Trigger an alarm/buzzer
5. Trigger the ground on a relay to illuminate a super bright light
6. Trigger a relay that is wired on the 12v+ of your fuel injectors killing the cars power and letting you know something is wrong ( Racelogic traction control out of the UK does something very similar to this to control engine power and wheel spin. Read our article by clicking the link above for more information on that).
7. Trigger your windshield wiper pump to turn on your windshield washer pump and spray your windshield. If that won't get your attention, than I don't know what will.
Ok, so the last one is maybe a little silly. Hopefully it does give you some ideas what you can do. Because the output of the gauge is a ground wire, it can be used to trigger a relay, or multiple relays so that you can have multiple things occurring. Maybe it sounds a buzzer, hits a rev limiter, and triggers an alternative-fueling map to retard timing and add fuel, ALL AT THE SAME TIME. Just remember that AEM rates the wire at 1.5 amps, so don't try and power many things with that wire. Personally, I would just play it safe and have it triggering an automotive relay instead.
What I am hoping you see is that this device is easy to set-up, and can be a lifesaver. I am amazed at how much people dump into their cars, and set-ups, yet HAVE NO FAIL SAFE DEVICES INSTALLED at all. Many just cross their fingers and hope a knock sensor may save their motor.
If this article has not convinced you that you NEED one of these gauges, then you either don't care about the safety of your motor, or you have a tree growing money in your backyard.
More information can be found on AEM's website about the gauge at: AEM Failsafe Gauge. For those too lazy to look, I will list some of their general specs below about the gauge.
Please like enginebasics.com on facebook and enjoy the many other technical articles found here!
What comes in the box: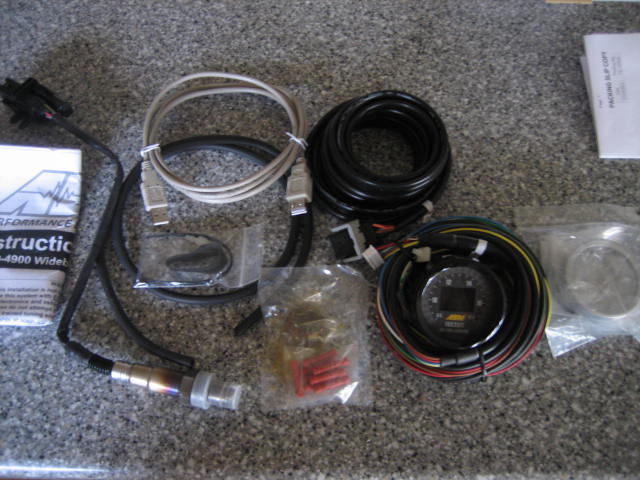 WIDEBAND FAILSAFE GAUGE FACEPLATE STYLES:
Kit comes with 6 different faceplates and black and silver bezels.
• Black and White AFR in sweeping LEDs
• Black and White Vacuum/Boost in sweeping LEDs
• Black Vacuum only in sweeping LEDs
• Black Lambda in sweeping LEDs
WIDEBAND FAILSAFE GAUGE TECHNICAL FEATURES:
• Displays both boost or vacuum and AFR or Lambda simultaneously on the same gauge
• No free air calibration required – ever
• Internal boost sensor
• Bosch Wideband UEGO sensor and weld-in bung included
• On-Board 3+ hour Datalogging capability at 20hz per parameter
• Full color Organic Light Emitting Diode (OLED) Display in center, user selectable feature (boost/vacuum or AFR)
• 24 three-color sweeping LEDs, user selectable feature (boost/vacuum or AFR)
• Intuitive set up software
• Interchangeable faceplates and bezels (see options, above)
• Data analysis using AEMdata software
WIDEBAND FAILSAFE GAUGE INSTALLATION FEATURES:
• AEMnet compatible (CAN 2.0)
• Differential AFR analog output
• Differential boost analog output
• Configurable RPM input for logging
• One low-side driver output (Ground with 1.5 amp max draw)
• Positive-lock connectors
• Tunable PC-based software with USB connectivity
• Time based reset for outputs
***UPDATE TO ARTICLE***
AEM has just recently released an addition to this gauge that now also includes ethanol content for your E85/flex fuel users out there. Fail Safe capabilities have been even further extended offering even more capability to the gauge. For a full write up on the new flex fuel boost fail safe gauge click THIS LINK.
ATTENTION READER:
If you enjoyed the information and article you just read be sure to check out our newly released book with even more exciting photo's and information:
How to Turbocharge and Tune your Engine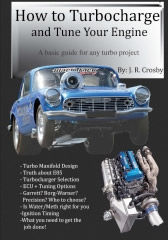 Follow Enginebasics on...


Want to know more about your particular Make and Model vehicle? All of these vehicles are covered in the tech, maintenance and repair articles found above. Enginebasics is the wiki or wikipedia of car part, repair, how to and tuning information. Let us be the class 101 for your automotive learning.
| | | | | | |
| --- | --- | --- | --- | --- | --- |
| Ford | General Motors GM | Pontiac | Jaguar | Land Rover | Nissan |
| Toyota | Honda | Lexus | Acura | Lotus | Scion |
| Infinity | BMW | Mercedes | Mitsubishi | Ferrari | Maserati |
| Lamborghini | Volks Wagen VW | Saab | Audi | Hyundai | Kia |
| Subaru | Mazda | Chevy | Volvo | Caddilac | Dodge |
| Chrylser | Daewoo | Porsche | Mercury | Freightliner | MG |
Individual Models
| | | | | | |
| --- | --- | --- | --- | --- | --- |
| Ford Mustang | Mitsubishi Eclipse | Mitsubishi Evo | Subaru WRX / STI | Dodge Viper | Chevrolet Corvette |
| Nissan Skyline | Honda S2000 | Nissan 350z | Toyota Supra | Chevy Camaro | Lotus Elise Exige |
| Honda Civic | VW Golf | Dodge SRT-4 | Eagle Talon | Acura Integra | BMW M3 |
| Nissan 240sx | Porsche 911 | Acura NSX | Honda Accord | Toyota Camry | Toyota MR2 |
| VW R32 | Dodge Truck | Mazda Rx7 | VW Jetta | Sand Buggy | Nissan Sentra |
Try The Car Enthusists Test (Link) and see how much of a motorhead you REALLY are.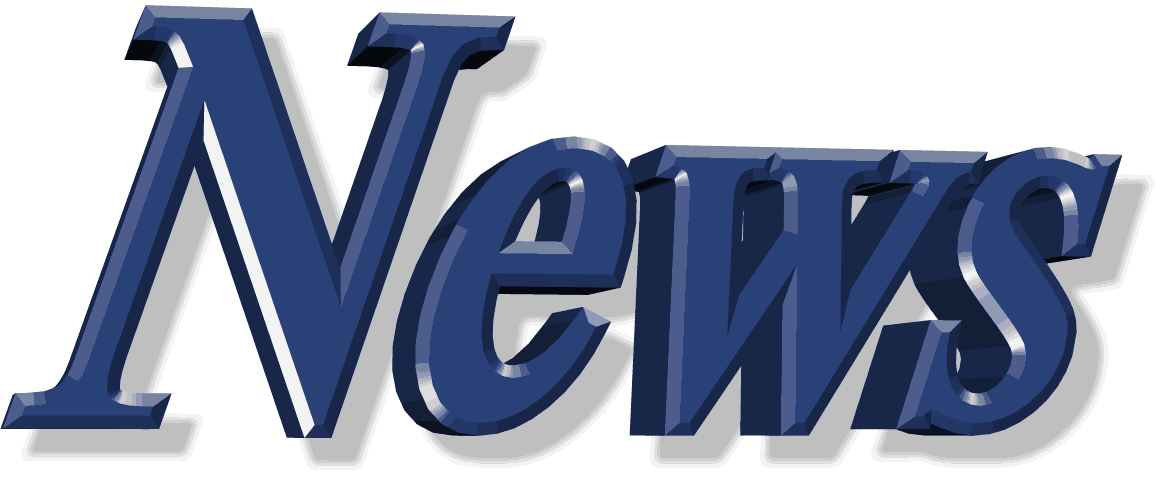 For the latest Automotive news and stories visit the websites below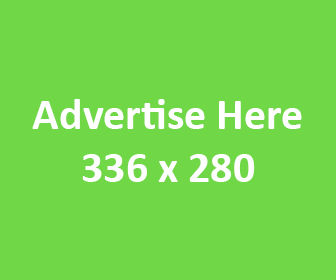 Our feature Build: An AWD V6 Civic