What is a Wastegate?
Contributed by: enginebasics.com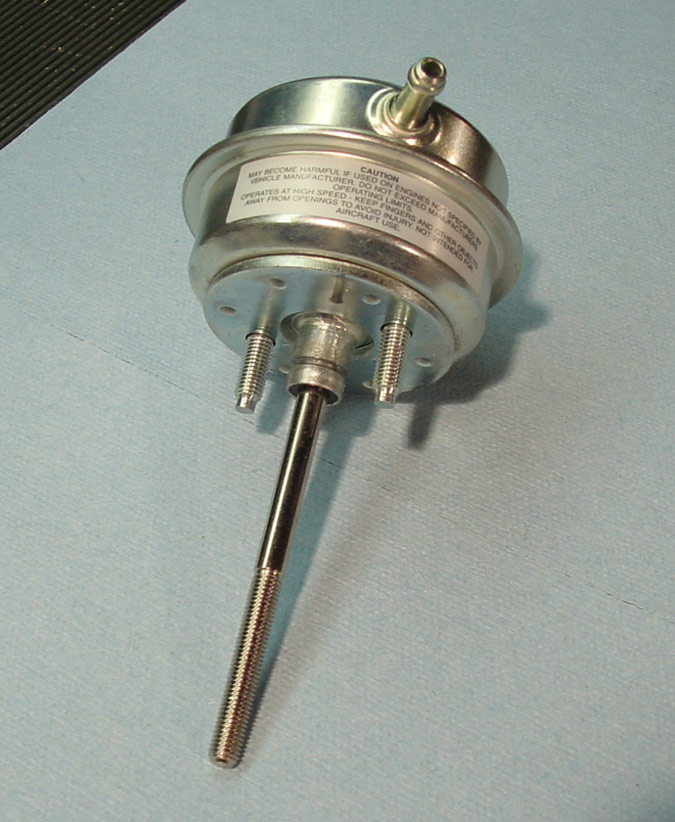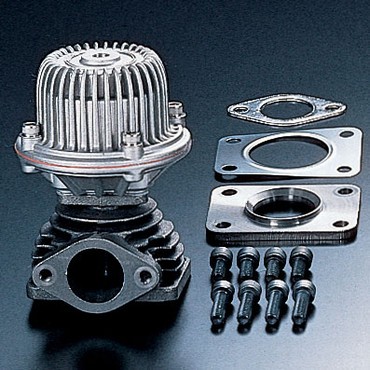 One could argue that a Wastegate is one of the most important components to a turbo charged set-up. It is the controller that lies in the background of any set-up. Understanding how this component works is good to know when running and setting up a turbo charged vehicle.
The Wastegate is essentially a diaphragm that has a spring on one side of the diaphragm and an inlet nipple on the other side. This diaphragm is connected to a gate that can open and close. This gate controls how much exhaust gas can by-pass the turbo's turbine wheel therefore controlling how fast the turbine will spin.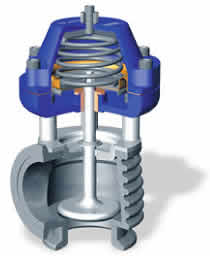 There are two types of Wastegates on the market today:
1. Internal Wastegate
This Wastegate is located and built into the turbo itself. On the turbine housing you will see the diaphragm mounted somewhere with an actuator arm attached to it as in the picture below. The actuator arm controls the gate just before turbine wheel.
*Pro's
1. Very compact and all in one package.
2. No special manifold required.
*Con's
1. Can only be so large based on the turbine housing size and therefore cannot flow a lot of exhaust CFM.
2. Location causes turbulence with the turbine wheel causing a loss in turbo performance.
2. External Wastegate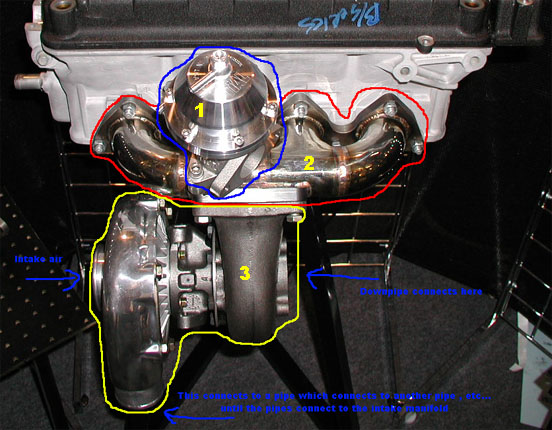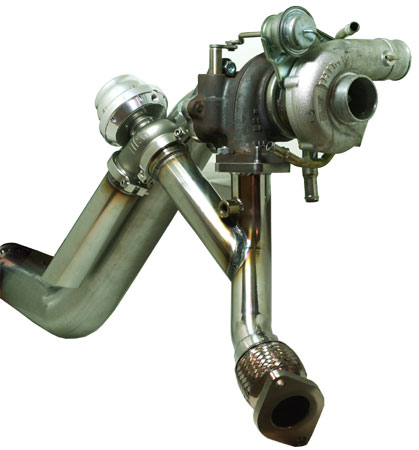 This Wastegate is located on the turbo manifold itself. Because this style Wastegate is not housed in the turbine housing, there is a lot more freedom on its size and location. Because External Wastegates are not located on the turbo, and must be located on the exhaust manifold, often a custom manifold is required to run this style of Wastegate
*Pro's
1. Can be a lot larger than an Internal Wastegate and therefore can flow more CFM if needed.
2. Can be located in an area that you choose to receive good flow and not hurt turbo performance.
*Con's
1. Are larger then Internal Wastegate set-ups.
2. Require a custom turbo manifold to utilize.
So which Wastegate set-up is right for you?
Well there is no simple answer. That will be based on the turbo manifold you have chosen to run. It will also depend on the amount of boost pressure you want to run, turbo size, and if a Internal Wastegate will be able to flow enough CFM to control the boost of the turbocharger, which brings us to our last topic. How does a Wastegate control boost? As we have discussed a Wastegate is a gate that is controlled by a diaphragm that wastes exhaust gas past the turbine wheel. The way this controls boost is by controlling the speed of the turbo charger by the amount of exhaust gas that is allowed to flow into it. When the Wastegate is closed, all of the motors exhaust gas flows through the turbo's turbine wheel, spinning it faster and faster. Once a desired boost pressure is reached, the Wastegate will open and close to maintain that pressure. The two components that control this moving of the diaphragm are the spring pressure, and the vacuum line that is also attached to the diaphragm.
There are only two wastegates we would suggest checking out and they are the following:
Make sure to check the boost controller article for tips on how to control the Wastegate and raise your boost and avoid boost spiking.
***Remember*** to check for other relevant information in the columns and article tables.
ATTENTION READER:
If you enjoyed the information and article you just read be sure to check out our newly released book with even more exciting photo's and information:
How to Turbocharge and Tune your Engine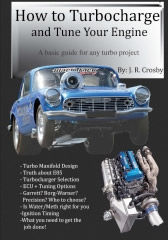 Follow Enginebasics on...


Want to know more about your particular Make and Model vehicle? All of these vehicles are covered in the tech, maintenance and repair articles found above. Enginebasics is the wiki or wikipedia of car part, repair, how to and tuning information. Let us be the class 101 for your automotive learning.
| | | | | | |
| --- | --- | --- | --- | --- | --- |
| Ford | General Motors GM | Pontiac | Jaguar | Land Rover | Nissan |
| Toyota | Honda | Lexus | Acura | Lotus | Scion |
| Infinity | BMW | Mercedes | Mitsubishi | Ferrari | Maserati |
| Lamborghini | Volks Wagen VW | Saab | Audi | Hyundai | Kia |
| Subaru | Mazda | Chevy | Volvo | Caddilac | Dodge |
| Chrylser | Daewoo | Porsche | Mercury | Freightliner | MG |
Individual Models
| | | | | | |
| --- | --- | --- | --- | --- | --- |
| Ford Mustang | Mitsubishi Eclipse | Mitsubishi Evo | Subaru WRX / STI | Dodge Viper | Chevrolet Corvette |
| Nissan Skyline | Honda S2000 | Nissan 350z | Toyota Supra | Chevy Camaro | Lotus Elise Exige |
| Honda Civic | VW Golf | Dodge SRT-4 | Eagle Talon | Acura Integra | BMW M3 |
| Nissan 240sx | Porsche 911 | Acura NSX | Honda Accord | Toyota Camry | Toyota MR2 |
| VW R32 | Dodge Truck | Mazda Rx7 | VW Jetta | Sand Buggy | Nissan Sentra |
Try The Car Enthusists Test (Link) and see how much of a motorhead you REALLY are.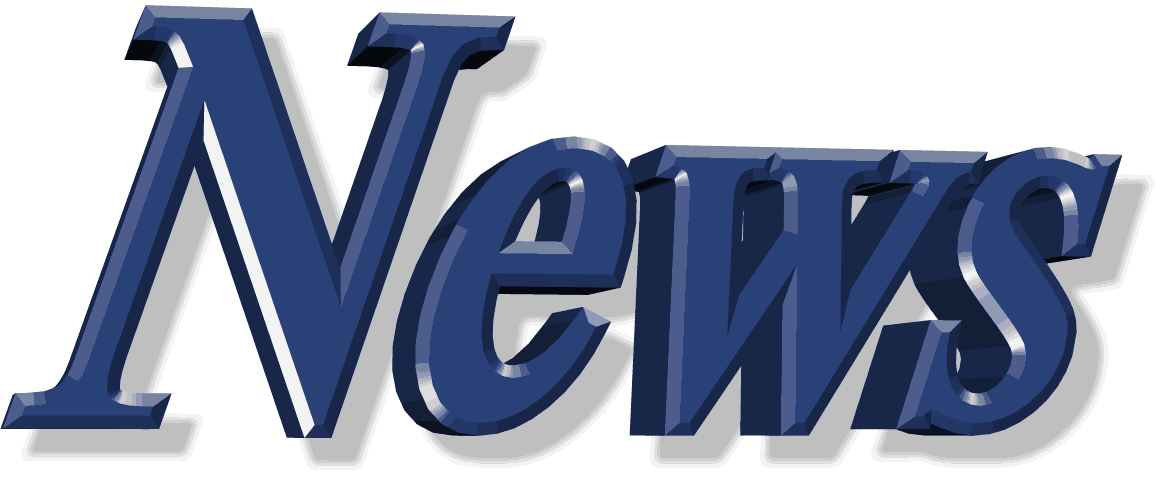 For the latest Automotive news and stories visit the websites below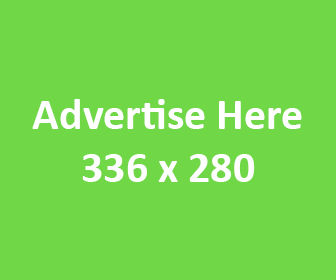 Our feature Build: An AWD V6 Civic