Fuel Line basics and sizing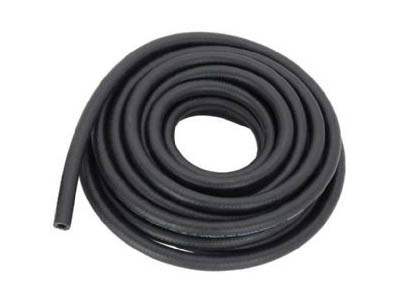 Also precautions for Ethanol/alcohol/methanol based fuels
Contributed By: Enginebasics.com
The sizing of fuel lines is VERY IMPORTANT to those that are starting to push the limits of power on there cars or trucks. Understanding then how to size the supply and return line will be good information to know.
Sizing Supply and Return Lines Properly
For most applications the factory fuel lines have been able to support around 500 whp. There are variations to this based on each vehicle and the fuel being used. For example if using E85, which requires 30% more fuel to reach stoic conditions, you would need to size the fuel lines even larger. If unfamiliar with ethanol based fuel, be sure to check out our article here on ethanol-based fuels.
Here is a picture of Ethanol rated fuel hose.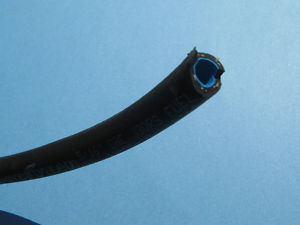 As a rule of thumb I would suggest the following:
Up to 500-550 whp: Stock Fuel Lines
Up to 800 whp: -8 AN supply Line; -6 AN return Line
Up to 1200 WHP: -10 AN supply Line; -8AN Return Line
OVER 1200 WHP: You are on your own. I have no experience here.
As you can see the return fuel line is always sized smaller than the supply line. The reason for this is that the return line will always flow less fuel being that the motor is using a portion of the supplied fuel to burn and run the motor.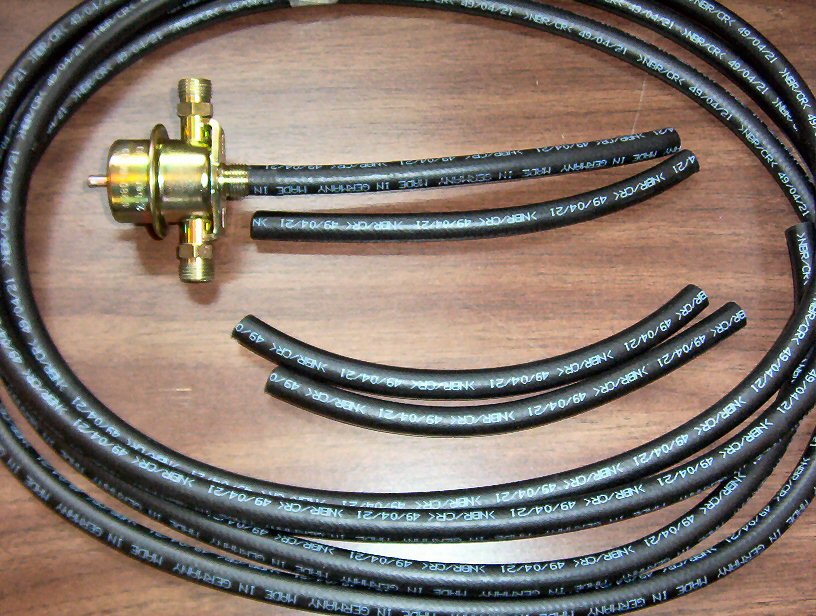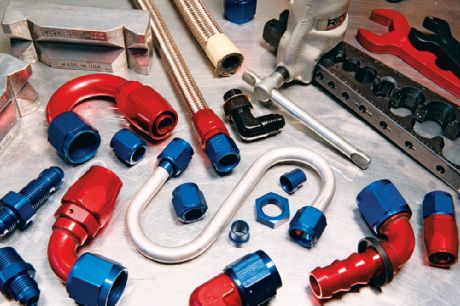 Things look for when buying fuel line
Many users today are discovering the benefits of using ethanol based fuels or methanol. While these fuels are great, not all fuel lines are rated to withstand their corrosive properties. Therefore it is important when purchasing fuel lines that you are realistic with the fuels you MAY end up running in your vehicle. I would suggest to plan for all options, and select a fuel line that is alcohol/methanol/ethanol rated so that there are no problems down the line. These types of fuels are VERY corrosive and will destroy fuel lines, and fuel cells that are not rated to handle them. You may not even know its doing damage till its to late. Often what occurs is the fuel line gets deteriorated from the inside and small chunks of rubber are released. These contaminants can now clog fuel filters or worse, clog an injector causing a cylinder to run lean until detonation and damage has occurred.
Summary
How many times have we done a modification to our car only to get the itch again for more power? Remember this itch when sizing your fuel lines. Always give yourself some breathing room and be realistic with you goals. Planning ahead will save you HUGE headaches in this department.
ATTENTION READER:
If you enjoyed the information and article you just read be sure to check out our newly released book with even more exciting photo's and information:
How to Turbocharge and Tune your Engine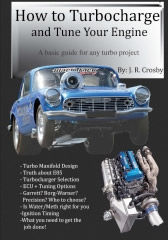 Follow Enginebasics on...


Want to know more about your particular Make and Model vehicle? All of these vehicles are covered in the tech, maintenance and repair articles found above. Enginebasics is the wiki or wikipedia of car part, repair, how to and tuning information. Let us be the class 101 for your automotive learning.
| | | | | | |
| --- | --- | --- | --- | --- | --- |
| Ford | General Motors GM | Pontiac | Jaguar | Land Rover | Nissan |
| Toyota | Honda | Lexus | Acura | Lotus | Scion |
| Infinity | BMW | Mercedes | Mitsubishi | Ferrari | Maserati |
| Lamborghini | Volks Wagen VW | Saab | Audi | Hyundai | Kia |
| Subaru | Mazda | Chevy | Volvo | Caddilac | Dodge |
| Chrylser | Daewoo | Porsche | Mercury | Freightliner | MG |
Individual Models
| | | | | | |
| --- | --- | --- | --- | --- | --- |
| Ford Mustang | Mitsubishi Eclipse | Mitsubishi Evo | Subaru WRX / STI | Dodge Viper | Chevrolet Corvette |
| Nissan Skyline | Honda S2000 | Nissan 350z | Toyota Supra | Chevy Camaro | Lotus Elise Exige |
| Honda Civic | VW Golf | Dodge SRT-4 | Eagle Talon | Acura Integra | BMW M3 |
| Nissan 240sx | Porsche 911 | Acura NSX | Honda Accord | Toyota Camry | Toyota MR2 |
| VW R32 | Dodge Truck | Mazda Rx7 | VW Jetta | Sand Buggy | Nissan Sentra |
Try The Car Enthusists Test (Link) and see how much of a motorhead you REALLY are.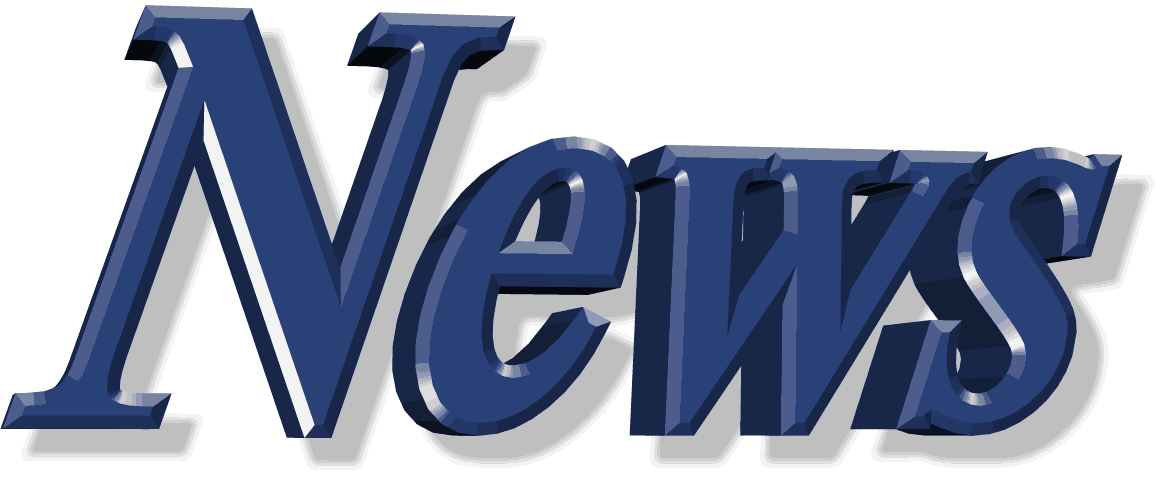 For the latest Automotive news and stories visit the websites below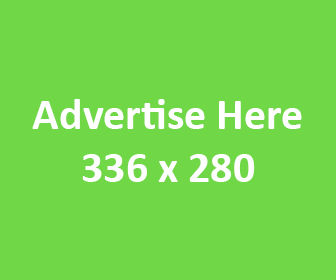 Our feature Build: An AWD V6 Civic