Exhaust Fabrication How-To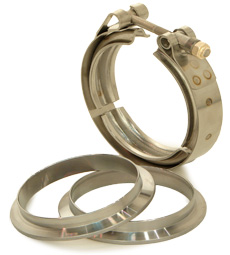 Exhaust Fabrication Connection options: V-band Gasket-less, and Gasket type connections
Contributed By: Enginebasics.com
When fabricating your own exhaust most can only focus on one thing, gaining more power. We have an article here at enginebasics.com explaining EXHAUST FLOW, that will help you with that aspect of exhaust fabrication. This article is to focus on something many don't plan ahead for when getting ready to build their own exhaust and that is the connection joints.
There are two main types of exhaust connections we want to look at:
1. Gasket-less (V-band Connections)
2. Gasket Type Connections
Gasket-less Connections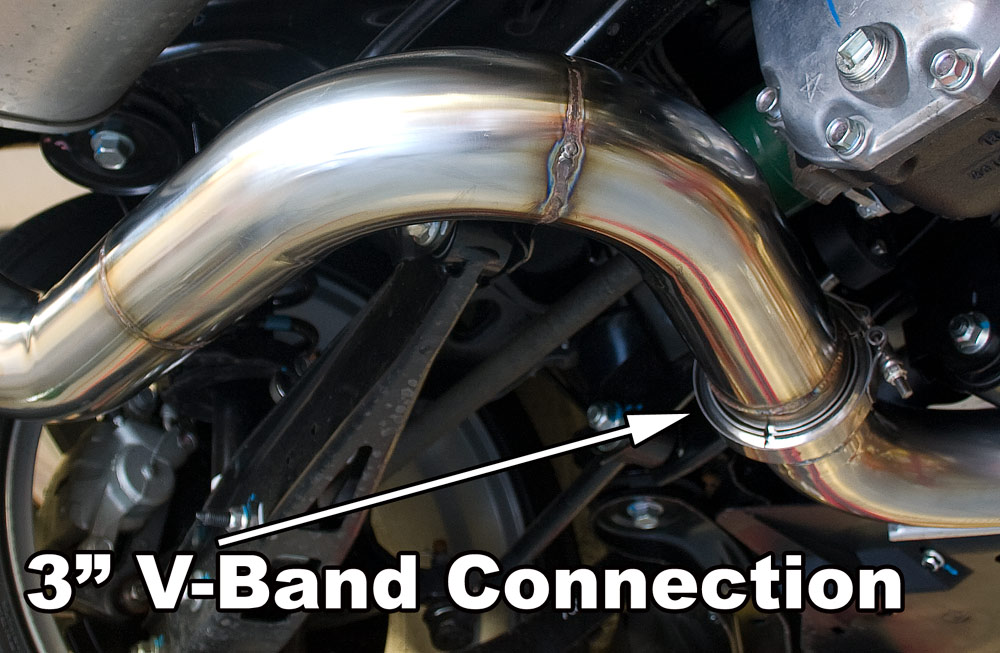 Gasket-less connections are great. One of the most popular types are V-band connectors. V-band connectors came to the market at the end of the 1990's and many fabrication companies have been using them ever sense for custom exhausts. They are quick to take on and off, and you don't need to worry about the gaskets going bad or breaking, because there are none. These connections use two machined lip pieces with a clamp that squeezes them together. Because of the very precise machined lip pieces, you must be very careful to not warp them when welding them to the exhaust pipe. Be sure to use low heat, and to move fast. Also it helps to have the clamp and other flange side attached to help disperse the heat and keep things aligned.
PROS
1. No Gasket to break or replace
2. Quick and easy to take on and off
CONS
1. Can leak easily if warped
2. Usually leak slightly no matter what you do, but you will never hear it. The leaks are so small the only way of knowing they exhaust is because of coloration signs after many years of use.
3. Expensive compared to gasket type connections
4. Will not bolt directly up to factory type flanges keeping it from being a bolt on solution to factory components.
Gasket Type Connections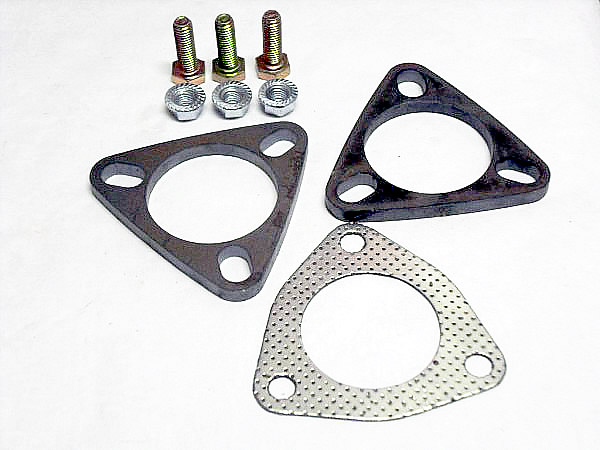 Almost all OEM manufacturers use these types of connections. They are cheap and don't leak, as long as the gasket holds together. The gaskets on 1980's and older cars used to break down and go bad constantly. With new technology came better and more dependable gaskets. It's not surprising to see an OEM manufacturer gasket last 200,000 miles. They are easy to weld in and you don't need to worry about warping as much as the gasket can seal up slight imperfections. Caution should still be taken though to minimize warping.
PROS
1. Cheap
2. No leakage seal, that can last for years
3. Easy to install and less concern with warping leaks
CONS
1. Take longer to remove than gasket-less V-band connections
2. Gasket can become damaged and leak
3. When bolts/nuts rust and seal up they can be impossible to remove
Pricing has been very competative of Amazon lately, so give them a look if you're about to start on an exhaust project and need some V-band clamps:
This should give you a general idea of the types of connections available for your home built custom exhaust. Either option will work depending on your budget and the plan you have for your particular build. If you have any questions about install or just other general questions, be sure to contact us and we will do our best to answer your questions. Also click on the main links found at the top of the page for many other great car and engine articles, and be sure to like us on facebook and follow us on twitter for constant updates on new articles released weekly.
ATTENTION READER:
If you enjoyed the information and article you just read be sure to check out our newly released book with even more exciting photo's and information:
How to Turbocharge and Tune your Engine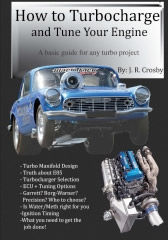 Follow Enginebasics on...


Want to know more about your particular Make and Model vehicle? All of these vehicles are covered in the tech, maintenance and repair articles found above. Enginebasics is the wiki or wikipedia of car part, repair, how to and tuning information. Let us be the class 101 for your automotive learning.
| | | | | | |
| --- | --- | --- | --- | --- | --- |
| Ford | General Motors GM | Pontiac | Jaguar | Land Rover | Nissan |
| Toyota | Honda | Lexus | Acura | Lotus | Scion |
| Infinity | BMW | Mercedes | Mitsubishi | Ferrari | Maserati |
| Lamborghini | Volks Wagen VW | Saab | Audi | Hyundai | Kia |
| Subaru | Mazda | Chevy | Volvo | Caddilac | Dodge |
| Chrylser | Daewoo | Porsche | Mercury | Freightliner | MG |
Individual Models
| | | | | | |
| --- | --- | --- | --- | --- | --- |
| Ford Mustang | Mitsubishi Eclipse | Mitsubishi Evo | Subaru WRX / STI | Dodge Viper | Chevrolet Corvette |
| Nissan Skyline | Honda S2000 | Nissan 350z | Toyota Supra | Chevy Camaro | Lotus Elise Exige |
| Honda Civic | VW Golf | Dodge SRT-4 | Eagle Talon | Acura Integra | BMW M3 |
| Nissan 240sx | Porsche 911 | Acura NSX | Honda Accord | Toyota Camry | Toyota MR2 |
| VW R32 | Dodge Truck | Mazda Rx7 | VW Jetta | Sand Buggy | Nissan Sentra |
Try The Car Enthusists Test (Link) and see how much of a motorhead you REALLY are.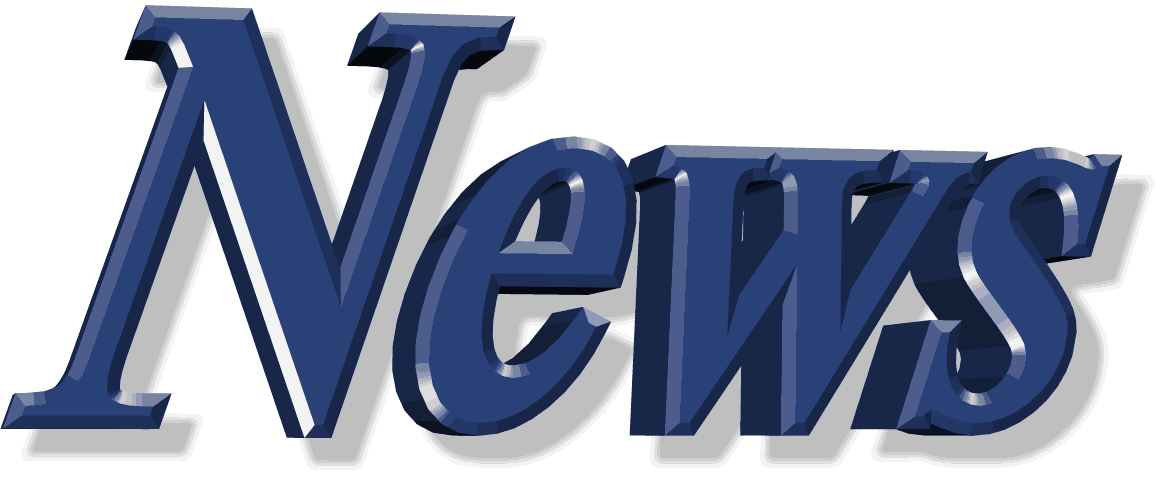 For the latest Automotive news and stories visit the websites below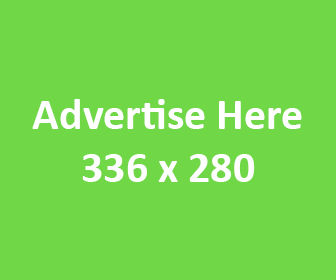 Our feature Build: An AWD V6 Civic